Brother Brother Time is a mockumentary series in which Jordan and Josh play fictionalized versions of themselves.
The first season was uploaded to Blimey Cow from 2006 to 2008 as part of Blimey Cow Productions. A five-episode second season, which takes place 7 years after the original, was released weekly between October 15th and November 13th, 2015.
In August 2020, in the weeks leading up to the Season 3 premiere, Josh announced he had extended the official Season 1 playlist by adding 5 new episodes.
Episodes
[
]
Season 1
[
]
Season 2
[
]
Season 3
[
]
You're My Friend

God vs. Science
Production
[
]
Season 1
[
]
From 2005 to 2008, the Taylors shot nearly 60 mockumentary-style videos featuring Jordan and Josh playing fictionalized versions of themselves. In 2017, before the release of Season 2, Josh selected 12 of these videos to be retroactively labeled Season 1 of Brother Brother Time. In 2020, Josh added an additional 5 episodes to the season: Delayed Vision, April Fool's Day, The Mystery, The Con, and The Power.
Season 2
[
]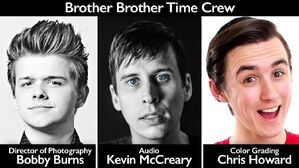 For season 2, Josh wanted the show feel more professional. The episodes were all scripted before any were filmed, and scenes which took place in the same location were all shot at the same time, resulting in the episodes being filmed out of order. Kevin McCreary and Bobby Burns were enlisted to help with production, while Chris Howard assisted in post-production with color grading.
Season 3
[
]
For Season 3, Josh decided to produce the show in a manner more similar to Season 1. The episodes were written one at a time and the scenes were filmed in order, resulting in a more relaxed and spontaneous environment on set.
In the January 15, 2017 Messy Mondays episode, Blimey Cow announced preproduction had begun on Season 3, estimating it would release Fall 2017.
In September 2017, on Jordan's 26th birthday, Blimey Cow announced that Season 3 would be releasing in Spring 2018.
The season was further delayed to late 2018. When Josh and Kelli announced in late 2018 that they were expecting a child, the season was postponed indefinitely.
In August 2020, Blimey Cow announced that the first script of Season 3 had been completed and was soon to be filmed, with the episode's release following in September.